As I mentioned a couple of posts back, my last flight, on 24 July 2011, crashed after reaching about 7300 feet AGL.
Another flyer – Stan Speegle of OROC – eventually found the crash site, and was nice enough to collect the wreckage and send it to me for analysis.  Here's what I found when I unpacked his box: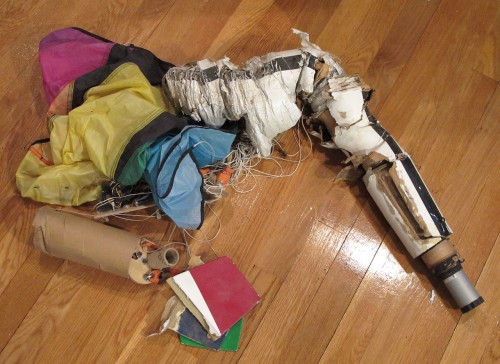 That rocket won't be flying again.  Interesting how high-speed crashes create "accordion"-like wreckage; very different from the result of low-speed crashes.
Despite the 280+ MPH impact, a lot of parts were still usable – the nosecone was undamaged (because it was ejected milliseconds before impact) and the G10 fiberglass fins can be used again, as can lots of little bits of hardware.
The only real surprise was that the apogee ejection charge hadn't gone off at all: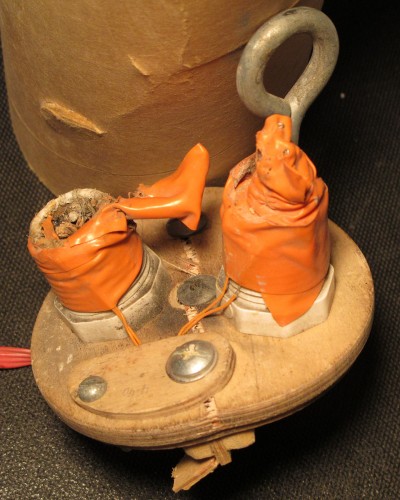 The charge holder on the left was the backup; that fired a few hundred milliseconds before impact.
The holder on the right fired 240 milliseconds after (detected) launch; but the charge didn't go off.  Unwrapping the flashbulb revealed that the bulb had fired, but not ignited the ejection charge: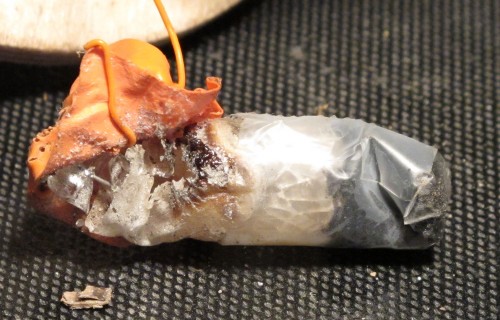 This is the first time I've been able to confirm that AG1 flashbulbs don't always ignite the ejection charge (I suspect, but can't prove, that it happened once before).  Overall AG1 bulbs are still a pretty reliable ejection trigger, but clearly not 100%; from now on I'll be using some kind of backup ignition with them.
The electronics PCB was banged up, but I was able to get it running again with some unbending and resoldering of pins.  I downloaded and analyzed the data stored in flash memory; it just confirmed what I'd already figured out from the telemetry.